Treatment and Research for the Underserved with Stress and Trauma
Welcome to the TRUST Lab at the UCLA Department of Psychology.
The TRUST lab uses research to improve access to, and quality of, care for diverse, low-resource, and underserved populations affected by traumatic and stressful events. The lab is led by Dr. Lauren Ng in collaboration with colleagues, students, and research team members throughout the world. She currently has research projects in the US, Ethiopia, and Rwanda.
Prospective PhD Student information Here.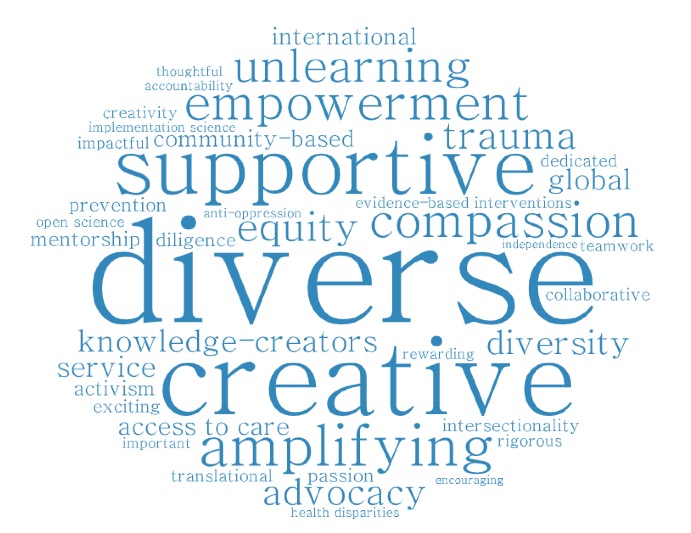 Recent News
New Undergraduate Positions available Winter 2022. Please see our Join the Lab page for more details and application instructions.
Congratulations to Dr. Caroline Shanholtz! She has been awarded a Child Mental Health in Action award from the Society of Clinical Child and Adolescent Psychology (SCCAP)! Her project is PTSD Prevention for Justice Involved Youth: A Feasibility Study. 
New Publication:
In the journal BJPsych Open:
Development of a psychological intervention for people with bipolar disorder in rural Ethiopia.
Citation and Open Access Article can be found Here.
Yesenia Aguilar Silvan, TRUST Lab Graduate Student and 2021 Ford Fellow, has been featured in The National Academies of Sciences, Engineering, and Medicine. More information on her research can be found on our Lab Members page and the full article linked here. 
Introducing our new Postdoctoral Scholar Dr. Caroline Shanholtz!
Dr. Shanholtz earned her Ph.D. in Clinical Psychology from the University of Arizona. Her program of research involves developing, evaluating, and implementing evidence-based interventions targeting stress and trauma for youth and families involved in the legal system. More information about Dr. Shanholtz can be found on our Lab Members page
New Publication:
In the journal Pilot and Feasibility Studies:
A culturally adapted brief intervention for post-traumatic stress disorder in people with severe mental illness in Botswana: protocol for a randomised feasibility trial.
Citation and Open Access Article can be found Here.
More news and announcements here.