Treatment and Research for the Underserved with Stress and Trauma
Welcome to the TRUST Lab at the UCLA Department of Psychology.
The TRUST lab uses research to improve access to, and quality of, care for diverse, low-resource, and underserved populations affected by traumatic and stressful events. The lab is led by Dr. Lauren Ng in collaboration with colleagues, students, and research team members throughout the world. She currently has research projects in the US, Ethiopia, and Rwanda.
Prospective PhD Student information Here.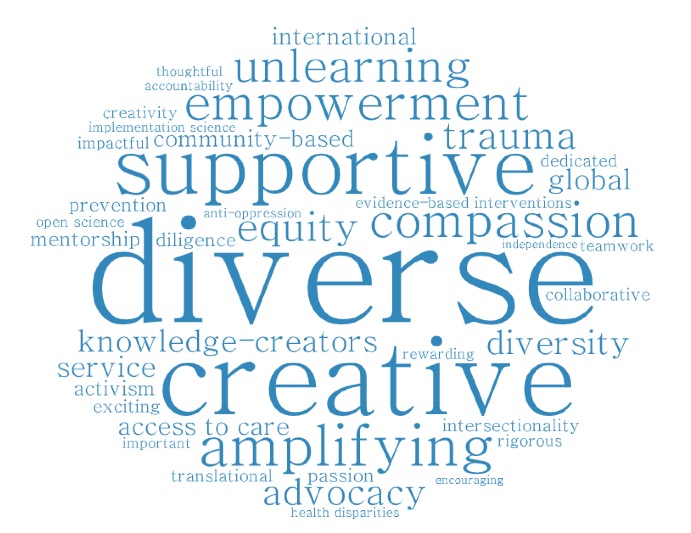 Recent News
New LAEP Scholar Research Work-study Intern position available to UCLA Undergraduate students! More information can be found on our Join the Lab page or through the Job posting on Handshake.
Congratulations Gloria Jiyoon Kim, one of the TRUST Lab's Senior Undergraduate Research Assistants! She has been awarded the 2022-2023 UCLA Equity, Diversity and Inclusion (EDI) Student Leadership Award! Gloria was selected as 1 of 3 Undergraduate Students honored for their excellence in making significant and positive contributions to the advancement of EDI at UCLA and were selected based on their leadership, innovation, and engagement.
Congratulations to TRUST Lab Graduate Student Megha Nagaswami! She has received the 2022 Harry and Miriam Levinson Scholarship from the American Psychological Foundation (APF)/COGDOP Graduate Research Scholarship program. This fellowship will help support Megha's research focusing on the role of systemic adversity on distress tolerance and relationship conflict in couples from minoritized backgrounds.
Mentorship Spotlight with Dr. Lauren Ng and Yesenia Aguilar Silvan: Mentorship enhances mental health research focused on the underserved.  More information and link to the full article can be found here.
UCLA Department of Psychology Faculty Spotlight: Dr. Lauren Ng! The Faculty spotlight features information on Dr. Ng's previous work and research with the TRUST Lab. 
More information and Departmental post can be found here.
New Publication:
In the journal Child and Adolescent Psychiatry and Mental Health:
Development and pilot testing of a five item traumatic stress screener for use with adolescents in pediatric primary care.
Citation and Open Access Article can be found Here.
More news and announcements here.