Treatment and Research for the Underserved with Stress and Trauma
Welcome to the TRUST Lab at the UCLA Department of Psychology.
The TRUST lab uses research to improve access to, and quality of, care for diverse, low-resource, and underserved populations affected by traumatic and stressful events. The lab is led by Dr. Lauren Ng in collaboration with colleagues, students, and research team members throughout the world. She currently has research projects in the US, Ethiopia, and Rwanda.
Prospective PhD Student information Here.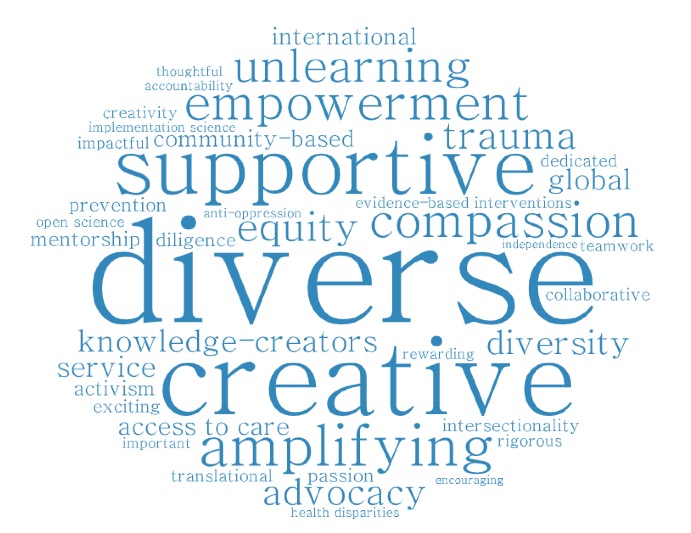 Recent News
Mentorship Spotlight with Dr. Lauren Ng and Yesenia Aguilar Silvan: Mentorship enhances mental health research focused on the underserved.  More information and link to the full article can be found here.
UCLA Department of Psychology Faculty Spotlight: Dr. Lauren Ng! The Faculty spotlight features information on Dr. Ng's previous work and research with the TRUST Lab. 
More information and Departmental post can be found here.
New Publication:
In the journal Child and Adolescent Psychiatry and Mental Health:
Development and pilot testing of a five item traumatic stress screener for use with adolescents in pediatric primary care.
Citation and Open Access Article can be found Here.
Congratulations to our Undergraduate Research assistant Gloria Kim! Gloria was awarded 2022 Dean's Prize for Excellence in Research and Creativity at the Undergrad Research & Creativity Showcase!! She presented her research Exploring Asian Americans' Attitudes Towards Mental Health Treatment Based on Therapist-Client Racial/Ethnic Match. Gloria's Presentation can be found at the UCLA Research Showcase website or viewed on YouTube.
Congratulations to the brilliant TRUST Lab RAs for presenting at today's Psychology Undergraduate Research Conference (PURC) hosted by UCLA! Dessery & Gloria for their excellent research talks, and Vidhi & Kat for their amazing poster presentations!
Congratulations to Gia Chodzen on being selected to receive the prestigious Dean's Excellence Award! She was nominated by the Department for her outstanding contributions to the teaching mission as well as her commitment to promoting equity, diversity, and inclusion.
Congratulations to Dr. Caroline Shanholtz! She has been awarded a Child Mental Health in Action award from the Society of Clinical Child and Adolescent Psychology (SCCAP)! Her project is PTSD Prevention for Justice Involved Youth: A Feasibility Study.
New Publication:
In the journal BJPsych Open:
Development of a psychological intervention for people with bipolar disorder in rural Ethiopia.
Citation and Open Access Article can be found Here.
More news and announcements here.